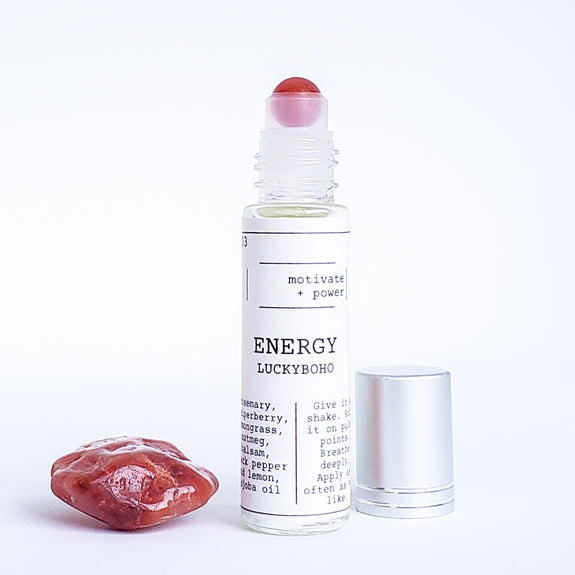 Lucky Boho Energy Roller
$20.00 USD
Activate your energy with this earthy scent of Patchouli, Geranium, Ylang Ylang, and Juniper Berry. 
Patchouli: offers balance and is mood stabilizing 

Geranium: reduces feelings of fatigue and tension

Ylang Ylang: Stimulating 

Juniper Berry: used to help overcome fatigue
Energy is paired with Carnelian. A beautiful reddy orange, it is a stabilizing crystal, perfect for anchoring in the present. Its high energy helps restore lost vitality and motivation, and stimulates creativity for new pursuits.  The stone is an excellent aid for training, for balancing body energy levels and boosting confidence and self esteem.
Application: Roll onto your pulse points to allow the heat to activate the oil. Take a deep breath once rolled on to stimulate the aromatic properties of the essential oil.
All Essential Oil blends are diluted with Jojoba oil making it safe to apply to your skin. Each roller is 10ml.
Disclaimer: Essential oils are not meant to take the place of medical treatments. Please consult your Doctor before use, particularly when pregnant or using on a child. Do not ingest. Discontinue use if rash appears.