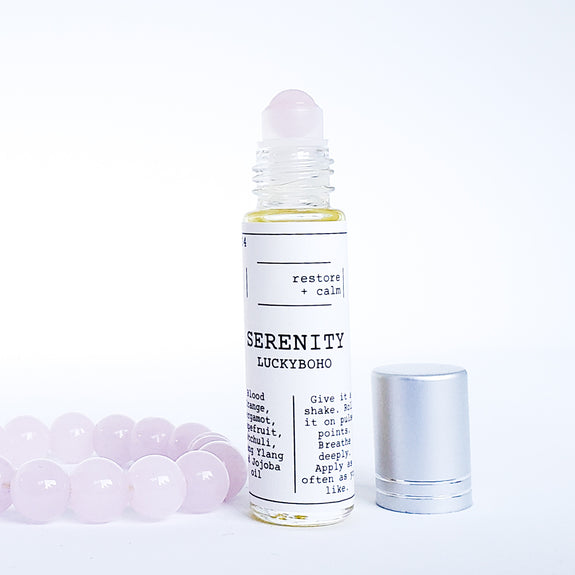 Lucky Boho Serenity Roller
$20.00 USD
Serenity promises to bring you just that - a feeling of relaxation and calm. With a refreshing citrus Bergamot and tangy Blood Orange combined with the deep earthy aroma of Patchouli and Ylang-Ylang make this a pleasant and soothing blend to create a relaxing atmosphere wherever you may wander. 
Blood Orange: a rich, bright aroma that improves the mood and reduces stress. 

Bergamot:  A delicate citrus scent, it is both uplifting and calming. 

Grapefruit: a citrusy scent, used to reduce stress and enhance your mood.

Patchouli: a warm, spicy scent that is grounding, balancing and calming

Ylang Ylang: Although known as an aphrodisiac, this essential oil also soothes stress, anxiety, sadness and tension. 
Rose Quartz is the perfect match with Serenity. Rose quartz restores trust and harmony in relationships and encouraging unconditional love. Rose Quartz purifies and opens the heart at all levels to promote love, self-love, friendship, deep inner healing and feelings of peace. Calming and reassuring, it helps to comfort in times of grief. Rose Quartz dispels negativity and protects against environmental pollution, replacing it with loving vibes. It encourages self forgiveness and acceptance invoking self trust and self worth.
Application: Roll onto your pulse points to allow the heat to activate the oil. Take a deep breath once rolled on to stimulate the aromatic properties of the essential oil.
All Essential Oil blends are diluted with Jojoba oil making it safe to apply to your skin. Each roller is 10ml.
Disclaimer: Essential oils are not meant to take the place of medical treatments. Please consult your Doctor before use, particularly when pregnant or using on a child. Do not ingest. Discontinue use if rash appears.